Archives
A bit of an update on the new Iphone 4G (iPhone HD) rumors.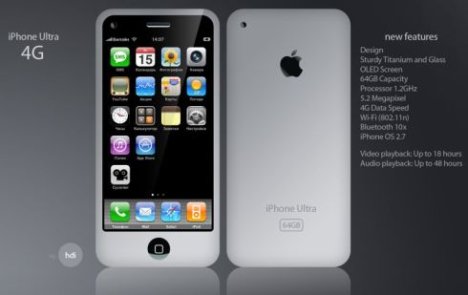 On April 14th, 2010
It seems that SaskTel, a Canadian wireless provider, will be offering the next-generation iPhone 4G from July 1st, apparently after the new device is launched in June. The iPhone HD (iPhone 4G) was rumored to be announced on June 22nd, and this seems to be in line with that rumor.

Robert Watson, president and CEO of SaskTel was quoted saying "The good news is that (Apple) is coming out with a new version of the iPhone in the June time-frame and they're going to put us on that,"
On April 16th, 2010
In a press release that SaskTel has sent today to iPhoneWorld.ca
, the company states that its CEO was simply misunderstood in his quote.
The full SaskTel press release states:
REGINA, April 16, 2010 – In 2009, SaskTel announced the construction of a new $172 million Universal Mobile Telecommunications System (UMTS)/High Speed Packet Access (HSPA) wireless network. The first phase of the new network build, which will provide coverage in the major Saskatchewan centers, is expected to be available mid- 2010. Full coverage, similar to today's digital cellular coverage, is anticipated to be available by the end of 2010.

At this time, SaskTel is currently working with cellular device vendors and partners, both current and new, to offer our customers a wide variety of devices to meet our customers' individual needs, including the iPhone.

The comments made by the SaskTel President and CEO in a news article on April 15, 2010 were not a confirmation of a release of a new version of the iPhone. The President was commenting on information that has been reported publicly and on the Internet for several months, which has speculated on the timing of a new release.

About SaskTel
Saskatchewan Telecommunications Holding Corporation (SaskTel) is the leading full service communications provider in Saskatchewan, with $1.15 billion in annual revenue and more than 1.4 million customer connections including more than 550,000 wireless accesses, 543,000 wireline network accesses, 225,000 Internet accesses and 77,000 Max™ (TV) subscribers. SaskTel offers a wide range of communications products and services including competitive voice, data, Internet, entertainment, national security, messaging, cellular, wireless data and directory services. In addition, SaskTel International offers software solutions and project consulting in countries around the world. In 2009, SaskTel contributed more than $651 million to the Saskatchewan economy through dollars spent with Saskatchewan-based suppliers and sponsorships to non-profit organizations. SaskTel and its wholly-owned subsidiaries have a workforce of approximately 4,800 employees. Visit SaskTel at www.sasktel.com.